YogaShine is a simple and non-commercialized yoga studio,
where the deeper roots of traditional yoga are taught.

Yoga is for Every Body. Whether you are large, small, average, stiff, flexible, slender, overweight, happy, depressed, older, young, very young, you can benefit from the practice of yoga.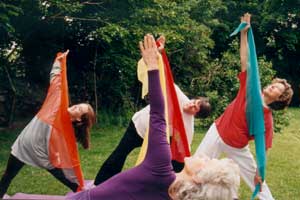 Yoga is not about wrapping your leg around your neck three times and sticking your toe in your ear. Yoga is an opportunity to begin to befriend our bodies, minds and spirits where we each are; with curiosity and kindness, we gradually explore and expand our limitations. Yoga provides us with tools to maximize our health and to gently soften the hard edges of our lives.

This is a "Pass/Fail" course and as soon as you enter the door, you "Pass". At YogaShine Studio, we focus on developing, nurturing, and integrating all the different parts of ourselves, in a mutually supportive, non-competitive environment. We offer YogaShine classes and Yoga/Movement Therapy for adults, children, people with special needs, and families.

The foundation of our approach is the Kripalu Yoga tradition, a style of Hatha Yoga which focuses on developing strength and flexibility with compassion and awareness. We are invited to treat our bodies with respect rather than force, and to let go of our needs to push ourselves.

Through the physical and ecumenically spiritual practices of yoga, we create a time to just be with ourselves, to relax and strengthen our bodies and minds, to have fun, to open our hearts and to deepen the connection between our "insides" and our "outsides".


VITALAH SIMON
M.Ed., RYT-500, LCAT, BC-DMT

is the main instructor at YogaShine. She has practiced Yoga for more than 45 years. She has been teaching Yoga in various Westchester locations for over 33 years.
She is a Registered Yoga Teacher at the 500-hour Professional Level by Yoga Teacher's Alliance, is a Licensed Creative Arts Therapist in Dance/Movement Psychotherapy, specializing in early childhood concerns, and has an M.Ed. in Counseling and Dance/Movement Therapy.
Having lived at the Kripalu Center for Yoga and Health from 1987-1989, she has also studied a wide variety of dance forms since age 3 and is gifted in reaching children through movement.

Vitalah's engagement in her own healing journey is integral to what makes her a reliable facilitator for others.